Welcome to Unit 425 in Anchorage, Alaska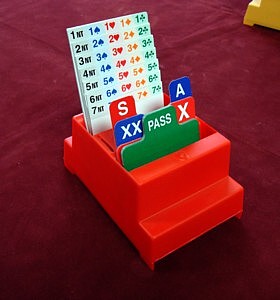 The Anchorage Bridge Center is a member owned club. There is a bridge game every day of the week, many days more than once. We have open games daily. There is a novice game on Tuesday evening. We have a standing Swiss teams game on Saturday evenings. The Saturday evening game can be a format other than Swiss from time to time. If you are an advanced player you may attend the novice and intermediate games, but will just not be eligible to receive master points. If you wish to learn more about the Municipality of Anchorage go to the Anchorage Convention and Visitor's Bureau website. Hope to see you soon!
If you have suggestions for the website email us at the Anchorage Bridge Center.
The Anchorage Bridge Center expects all participants to comply with the ACBL Zero Tolerance Policy.

2018 Cabin Fever Sectional -- Feb 28 - Mar 4, 2018.
Non-Life Master Sectional May 3 - 6, 2018
Midnight Sun Regional June 18 - 24, 2018
Businesses and Organizations contributing to our Regionals:
Sappah & Son Guide Svc
TBA Theatre, Inc.
Our playing schedule:
Day
Time
Type
Director
Need a Partner?
Directors may not be as listed because of conflicts.
Sunday
1 PM
Open
Hoehne
258-0494 (Dennis)
Monday
7 PM
Open
Scott
344-9906 (Wonnie)
Tuesday
Noon
Open
Scott
344-9906 (Wonnie)
6 PM
Lesson
Bladow
6:30 PM
199'er
Bladow
Partner always available
Wednesday
7 PM
Open
Scott
344-9906 (Wonnie)
Thursday
Noon
Open
Sappah
258-0494 (Dennis)
Friday
11:00 AM
Lesson
Doty/Wallis
Friday
Noon
Open
Sappah
258-0494 (Dennis)
Saturday
7 PM
Open Swiss
Schmahl
258-0494 (Dennis)