Welcome to Unit 425 in Anchorage, Alaska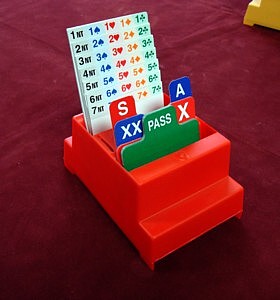 The Anchorage Bridge Center is a member owned club. There is a bridge game every day of the week, many days more than once. We have open games daily, novice games on Tuesday evenings, and Intermediate games on Thursday evenings and Saturday afternoons. We have a standing Swiss teams game on Saturday evenings. If you are an advanced player you may attend the novice and intermediate games, but will just not be eligible to receive master points. If you wish to learn more about the Municipality of Anchorage go to the Anchorage Convention and Visitor's Bureau website. Hope to see you soon!
If you have suggestions for the website email us at the Anchorage Bridge Center.
The Anchorage Bridge Center expects all participants to comply with the ACBL Zero Tolerance Policy.

Christmas Party Sunday, December 7, 2014 at 1 PM. Potluck at noon (bring a dish to share). Come and have a great afternoon of bridge.
S.T.A.C. games Dec 8 through 14. Come and play to get silver points. Increased fees for the week apply.
Michael Ebell is directing Easy Bridge lessons on Fridays 6:30 PM, it's never too late to start, held at the Anchorage Bridge Center for more info or to sign up call Mike @ 830-4611 or email Mike Ebell
Our playing schedule:
Day
Time
Type
Director
Need a Partner?
Directors may not be as listed because of conflicts.
Sunday
1 PM
Open
Hoehne
248-5054 (Kathie)
Monday
7 PM
Open
Scott
344-9906 (Wonnie)
Tuesday
Noon
Open
Scott
344-9906 (Wonnie)
6 PM
Lesson
Keyes
6:45 PM
199'er
Keyes
333-4380 (Don)
Wednesday
7 PM
Open
Scott
344-9906 (Wonnie)
Thursday
Noon
Open
Centoni
345-0869 (Kathy)
6:00 PM
Lesson
Doty
6:45 ish PM
399'er
Sappah
262-0699 (Terry)
Friday
Noon
Open
Centoni
345-0869 (Kathy)
6:30 PM
Easy Bridge
Ebell
830-4611 (Mike)
Saturday
7 PM
Open Swiss
Schmahl
258-0494 (Dennis)